According to TransUnion, 2022 appears to be a healthy year for the auto finance industry, providing vital access to credit, despite a minimal increase in volume and continued low delinquency rates. As the economy normalizes post-pandemic, it is expected to continue the expansion of auto lending. Along with these auto loan projections and expectations comes the opportunity to increase your market share
.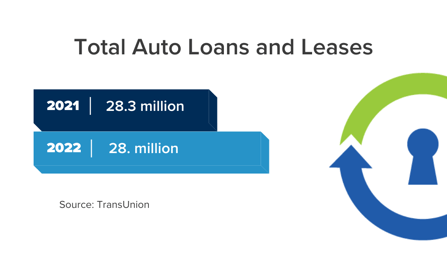 WardsAuto quoted Satyan Merchant, TransUnion's senior vice president and auto business leader, as stating, "It may take all of 2022 and then some, for new vehicle inventory to recover from the computer chip shortage and other supply chain woes," and, "because of that, we expect the originations in 2022 to be flat to slightly higher in total, but it's relatively flat growth."
Merchant added, "New vehicle production could attain a more normal run rate before the end of 2022, but there's so much pent-up demand, production still won't be able to keep up with demand." Merchant concluded, "Delinquencies should remain flat at about 1.51% for the last quarter of 2022."
What the Fed Has to Say
To explain the COVID economy's impact on originations, the Federal Reserve states in FEDS Notes that there is "present evidence that originations to low credit score borrowers fell sharply at the onset of the pandemic and remained suppressed through the beginning of 2021. Consistent with the existence of these 'missing originations,' we show that delinquency rates among recently originated loans fell much more than among loans originated prior to the pandemic outbreak. We estimate 'missing originations' can account for up to 30% of the realized decline in delinquency rates since the end of 2019. We also present suggestive evidence consistent with contractions in supply rather than demand, driving the 'missing originations."
Further, the Fed stated, "Our finding that 'missing originations' account for as much as 30% of the decline in delinquency rates has important forward-looking implications. To the extent that low delinquency rates are supported by forbearance and income support measures, as these temporary programs expire, delinquency rates may rebound toward pre-pandemic levels. On the other hand, to the extent that the low delinquency rates are partly supported by reduced originations among low-credit-score borrowers, delinquency rates may remain suppressed, relative to pre-pandemic levels."
The FEDS Notes discussed several reasons why auto lenders may have cut credit to nonprime borrowers during the pandemic. The first reason was they decided to decrease the risk in their loan portfolio because of the funding market turmoil of March and April 2020. Another reason was lenders decreased credit because they were no longer able to be sure of the risks with potential borrowers. In the summer of 2020, lenders were wary of the effects of forbearance programs on potential borrowers' credit scores.
CARES Act Impact
Forbearance programs like the Coronavirus Aid, Relief, and Economics Security (CARES) Act passed by Congress in March 2020 stipulated that current accounts, subsequently enrolled in a forbearance program, had to be reported as current rather than delinquent to credit reporting agencies. This meant borrowers who were no longer making payments on a loan but were enrolled in a forbearance program were not counted as delinquent, and their credit scores did not reflect their nonpayment status, making lenders unable to accurately evaluate a potential borrower's risk.
Still many lenders voluntarily implemented forbearance programs in the auto loan, credit card, and other consumer loan markets. The CARES Act allowed homeowners with federally backed mortgages to apply for forbearance programs from their lenders. It also extended an executive order mandating forbearance and a halt on interest accrual for the majority of federal student loans. If lenders were wary of the lack of clarity brought by these forbearance programs and new reporting rules, they may have cut credit more to borrowers enrolled in forbearance programs.
Near- and Nonprime Market Opportunities
TransUnion Financial Services 2022 Consumer Credit Forecast also expects that with origination levels reaching or surpassing pre-pandemic levels, broader lending to higher-risk clientele as the economy normalizes will continue to expand the auto financing market. This is where Open Lending and our clients can help!
The forecast found that not only will the auto financing market continue expanding into the nonprime segment, but so will the credit card and personal loan markets, as financial institutions rethink and rework their growth strategies.
Charlie Wise, Senior Vice President of Research and Consulting at TransUnion, told GOBankingRates, "Now that the economy is starting to normalize and lender confidence has been restored, lenders are more comfortable with once again extending credit – especially to the nonprime segment of the market. The fact that new volumes are expected to reach or surpass 2019 levels across many segments of the market is a sign that things are well on the road to recovery."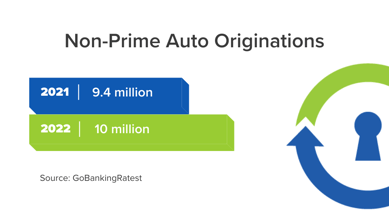 Nonprime auto loan originations are expected to rise from 9.4 million in 2021 to 10 million in 2022, representing a higher share of all auto loans. At the height of the pandemic, according to the forecast, many lenders tightened underwriting and pulled back to hedge their risk during the pandemic when there was much uncertainty. Lender confidence seems to have been restored due to continued strong consumer performance. Wise explained the forbearance programs and government stimulus funds "worked as intended and provided a safety net for many consumers as well as additional liquidity. Financial institutions are ready to return to lending and meet the demand for credit for consumers that have traditionally been in the riskier credit segments – something lenders were not as keen on when there was greater uncertainty in the market." Wise continued, "Card balances saw a significant decrease in 2020. Lockdowns were in place across the country and things that consumers spent money on — whether it was retail, entertainment, or dining — were all closed. In addition to consumer spending dropping, consumers had more liquidity in the form of government stimulus funds and could pay down balances." Fast forward to 2021 and the economy normalized compared to the year prior, he added. "There's been a vaccine rollout, businesses are open, and consumers are returning to work, and this is a trajectory we expect to continue. Consumers are more confident in the economy which should lead to a resurgence in spending."
All in all, by providing access to affordable credit and continued low delinquency rates, the rest of the year will remain healthy for the auto finance industry, including plenty of opportunity for expansion with near- and nonprime borrower originations.
Open Lending's Lenders Protection™ can help you say 'yes' to more loans. Contact us today to learn more.
Share